Bio For Shawn Arent, Ph.D., CSCS*D, FACSM, FISSN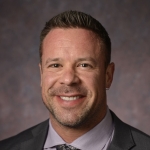 Shawn M. Arent, PhD, CSCS*D, FACSM, FISSN is currently an Associate Professor in the Department of Exercise Science and Sport Studies at Rutgers University. He is also the Director of the Human Performance Laboratory and Director of the Center for Health & Human Performance in the Institute for Food, Nutrition, and Health. Dr. Arent is a Certified Strength and Conditioning Specialist with Distinction with the National Strength and Conditioning Association and also a Fellow in the American College of Sports Medicine. He completed his undergraduate degree at the University of Virginia and both his MS and PhD in Exercise Science at Arizona State University. His research focuses on the relationship between physical activity and stress and the implications for health and performance, with an emphasis on underlying biological and behavioral mechanisms. His recent work has primarily focused on physiological responses to training-related stressors and their contribution to optimal performance and recovery. He is specifically interested in the potential efficacy of acute and chronic resistance training and nutritional supplementation for improving functional capabilities and mental health.
Dr. Arent is on the national staff for the US Soccer Federation and works closely with a number of teams at Rutgers University. He also provides performance enhancement advice for youth, high school, collegiate, and professional athletes in a number of sports, including soccer, football, wrestling, baseball, softball, gymnastics, rowing, equestrian events, and cycling. He has received research funding from the National Institutes of Health, the Robert Wood Johnson Foundation, Life Fitness Academy, the Center for Obesity Research and Intervention, and various biotechnology companies. His work has also received considerable attention by the popular media, including Shape Magazine, Men's Health, Prevention, and Self. He is on the editorial board for Sport, Exercise, and Performance Psychology, the Journal of Sport and Exercise Psychology, Comparative Exercise Physiology, and is an Associate Editor for the Journal of Strength and Conditioning Research.